We are the most comprehensive school in the world focused on educating and training Aircraft Dispatchers and Aircraft Avionics.
Welcome to Flamingo Air's Airline Ground Schools
Airline Ground Schools: Aircraft Dispatcher and Avionics Technician Training. We can help you become a FAA Certified Aircraft Dispatcher and work for the Airlines in Operations.
Interested in Avionics? Become a NCATT/ASTM Certified Avionics Technician and work on the aircraft electronics.
Become a Certified Aircraft Dispatcher
Airline Ground Schools is the only school in the world approved by the Federal Aviation Administration (FAA) to offer its Aircraft Dispatcher Certification Course with online distance learning to individuals that have no aviation background.
Our unique program is a 200-hour course. However, 138 of those hours can be completed online so that students may work at their own pace. Upon completion of the FAA Private Pilot and Aircraft Dispatcher Computer Knowledge test, students will attend a seven-day residency study program at our global campus located in the historic terminal building at Lunken Airport in Cincinnati, Ohio.
Thanks from a Graduate
Hi Sharon, I just received my AC dispatcher card in the mail today and I wanted to say thank you to you and the entire staff. Taking your Dispatcher coarse and being at the school this past August was a big challenge and I have to say I thoroughly enjoyed the experience. I will be recommending your School to my friends for sure! Good luck to you and the school in your expansion efforts!
Become an Avionics Technician
Become an expert in the field of Avionics Technology. Earn your Aircraft and Drone Avionics Technician Certificate with our Avionics Technology Training, a program that is fully accredited by the National Center for Aerospace & Transportation Technologies (NCATT).
Airline Ground Schools offers the training needed to maintain, diagnose and repair aviation electronics equipment and systems. Plus, the program allows you to work at your own pace. AGS has applied its unique curriculum of distance learning combined with traditional classroom training. The result is a global classroom that significantly reduces the on-campus time necessary to earn the basic Avionics Electronics Technician certification.
Airline Ground Schools provides the education you need to test for and receive certification. Approximate time to complete all courses is 15 months, and completion is equivalent to a two-year degree.
If you want to work in the Aerospace industry, consider a career in avionics. This is a high-paying, rewarding profession, and there is currently a high demand for individuals who are experts in this field.
Aircraft Dispatcher Certification Course
Tuition: $4,995 USD
Course materials extra (average $500 USD)
Registration
Aircraft Dispatcher Recurrent Training Course
Online recertification course for certified FAA dispatchers.
Tuition: $1000
Class Dates
All classes meet from Saturday through Friday.
Class Dates
April 13 – 19, 2024
June 15 – 22, 2024
August 10 – 16, 2024
October 12 – 18, 2024
December 7 – 13, 2024
Class Dates
All classes meet from Saturday through Friday.
Class Dates
February 10 – 16, 2024
April 13 – 19, 2024
June 15 – 22, 2024
August 10 – 16, 2024
October 12 – 18, 2024
December 7 – 13, 2024
Avionics Technician Certification Courses
AET 1 and 2 for a total of $2,995 USD
---
Registration
Primary Certification Courses:

Courses 1 & 2: AET, Avionics Electronic Technician
This is the basic entry-level course and the primary certification required for all endorsements in the avionics career field.
AET 2 Includes  FCC General Radio Operators License (GROL) with Radar Endorsement
This course is considered to be the graduate or capstone degree, and a critical certification in order to be recognized as an expert in the industry.
Airline Ground Schools has been teaching Air Transport Pilot (ATP) and Aircraft Dispatcher (ADX) test preparation for 50 years and has graduated more than 60,000 students.
With our campus is located at Lunken Airport in Cincinnati, Ohio,  Airline Ground Schools is one of the largest FAA-approved aircraft dispatcher certification schools in the world. Our courses are designed specifically for working adults, and students can earn a certificate in less than six months.
If you are looking for a career change, we can train you for an exciting and rewarding career working directly for an airline or corporate flight department in flight operations.
Dave MacDonald
Flamingo Air President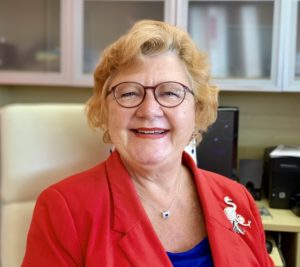 Sharon McGee
Academy President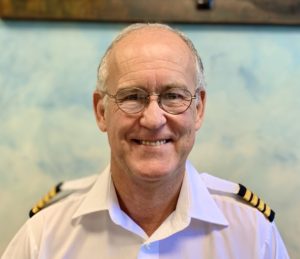 Tim Marshall
Director of Operations
Visit Us:
4240 Airport Rd., Suite 106
Cincinnati, OH 45226
Talk to us:
(513) 321-PINK or (513) 321-7465
Email:
Getting Here:
We're just a short drive from downtown Cincinnati. Click here for driving directions.
Parking
Parking is free. The parking entrance is located at 4240 Airport Rd.  Pull into the first driveway on Airport Rd.  Our offices are in Suite 106.
Hours:
Daily 9:00 – 5:00
Thanks from a Graduate
Just wanted to let you know that I am now gainfully employed with Global Flight Source at the Wilmington Air Park in Wilmington, OH. I'm starting as a Flight Support Specialist and the company indicated within a year I can move into a dispatcher position. Telling them I received my training from Flamingo Air made an impression on them. Thank you for everything everyone did to ensure my success! It only took a month to find a job.
Eileen Sullivan
---
Just a Note of Thanks
Dear Sharon,
I hope that New Year started really well for you!
Just wanted to thank you for the wonderful time we enjoyed in Cincinnati! The atmosphere was welcoming, encouraging and made an overall challenging course both an adventure and one of a kind, positive experience!
May 2019 be a successful and prosperous year for Flamingo Air Academy, with full classes and bright students!
Thanks again!
Best regards,
Olga
---
News on My Career
I am very happy to tell You, that I have been passed all my exams and training here in airBaltic and now I am officially Flight Dispatcher. Now I can work in shifts without any supervision and sign and release all the flight plans that I have been  made.  I would like to Thank everybody involved in my training so I could achieve my goals. Thank you Marty and David for such a great school and warm enroll in aircraft dispatcher course. Thank you Marty for patience and assistance in training process. Thank you Tim for good words and cheer up before exams. Thank you Van for knowledge that you give me in your course. I really hope that I will meet you all again!
Warm greetings from Latvia!
Silvestrs Darbots
---
Thanks for a Successful Class
I am sending this email to extend my sincere gratitude for all of the help, assitance and guidance that you and every staff in Flamingo Air provided me with. Its been an honor and a pleasure to attend the flight dispatcher course and being licensed with Flamingo air.
The course conduct was smooth and the physical class conduct was outstanding, Mr. Wilshire did extend all efforts in making sure that we have the knowledge to conduct the checkride and be professionals our future career life; it was a challenging and fun class with an outstanding group of people.
No words would be enough to describe the gratitude I have for all of you, you brought me joy as this has become the positive turning point in my life which I have been waiting for.
I wish all of you all the joy, happiness and prosperity.
Merry Christmas.
Khalid Albinali
---
Career Update from Graduates
Thanks again for your support and influence in achieving my career goal.
I am in my 3rd year as a dispatcher for American Airlines and could not be happier.
Couldn't have done it without you!
Sincerely,
Bill Walbek
---
August 2017 Dispatcher Class Reviews
Everybody here is fantastic! The instructors are very knowledgeable and do such a great job preparing you for the test. Anybody that is looking to get the dispatcher certificate should definitely go to Flamingo Air!
– Trevor S. – Endeavor Air
Van, you were a great instructor and readied us for the practical and oral well. The jokes were appreciated along with the brakes every hour and fun tower tour. We had a great class and I wanted to thank you for all of the help. Thank you again.
– Ashley T. – Pentastar Aviation
I'd just like to send a HUGE thank you your way. Going into the exam yesterday I was (obviously) so nervous, but you had already given me all the information and tools I needed to succeed, I just had to believe it. Thank you so much for all of your hard work and dedication to our class this August and having faith in all of us that we could do it. I know you truly wanted each of us to succeed and you definitely got us there.  Like I said, thanks for everything, Van. You're the greatest! I hope to see all of you guys at Flamingo very soon.
Catherine B. – Executive Jet Management
---
Comments From Airline Ground Schools Dispatcher Graduates
Hello Sharon,
I didn't know if I thanked you yesterday before I left. I was in shock from the oral and flight plan exams and shocked that I passed. If I didn't, thank you so much for EVERYTHING. I really enjoyed Flamingo and its staff and I would be crazy not to recommend Flamingo to others. If I could do it all over again, I'd still choose you guys. Your building is so cute and made being in the building 10 hours a day fun
Thank you and to all your staff and I hope to see you guys in the future (the drone class looked cool).
Sincerely,
Grace
---
This is DK and I just wanted to drop you a quick note to say THANKS!  I really responded to your teaching style and was impressed by your patience with all of us in the class. Thank you for getting me to a point where I was able to successfully complete a satisfactory FAA evaluation today. I am over the moon with excitement!
Safe travels,
DK
---
Greetings from Dallas as I sit here having just finished my third week of classroom training at Southwest Airlines as an Assistant Dispatcher.  I just want to extend my gratitude to you and the rest of the team for providing the avenue for me to get to where I am today.  I never though it would work out as well as it has, but timing is everything in this industry, and I was able to walk into the test and subsequent interview well equipped and confident thanks to the tools and training that I received while at Flamingo.  Furthermore, the family hospitality that I'm experiencing here at Southwest is a lot like the family hospitality that I received while in Cincinnati, and I just couldn't be happier with my experience overall.  You guys have a great thing going and I can't thank you enough.  Please extend my gratitude to Van and the rest of the team as I wish you guys all the best and continued success.
Erik Kutzer, Southwest Airlines
---
Thank you for a great experience during the December dispatch course. I enjoyed pushing myself to higher levels to accomplish the completion of my certificate. Van, along with the other teacher aides, made it possible to learn and understand all course material in an easy manner. The camaraderie with the other students is what made it special for me. Just 23 days after completing my certificate, I started at Ameriflight at CVG. Once again, I cannot thank you enough It was a pleasure to spend the week learning at Flamingo Air Academy.
Trace Norton, Ameriflight
I can't thank you and your staff enough for all the help, encouragement, and support you provided in guiding me/us through the dispatch certification process. It's been more than 20 years since the last time I had to study for a test, and I'm sure i wouldn't have passed without your patience and guidance. I wish you and yours all the best.
NG, US Airways
---
Aloha to the AGS/Flamingo Air gang. Please accept this small token of appreciation. I had a great experience and am greatly appreciative of your hospitality.
RR, Hawaiian Airlines, Honolulu, HI
---
I recently started with HP as a flight operation analyst. We support Continental and some other air carrier dispatch programs. Its a good salary and since I'm a full time employee, it has benefits.
SD, Hewlett Packard, Los Angeles, CA
---
During all the months of studying, I felt that I was in good hands. Every question that I sent to you got a prompt answer. That is a very good sign of service and I appreciate that… your assistance during class was perfect!
DS, Lufthansa, Germany
---
I was hired as a dispatcher this week at CommutAir here in Cleveland.
TL, CommutAir, Cleveland, OH
---
I am in a 10 month International Dispatch OJT process with Fedex in Memphis. Once again, thank you for your school, the hard work and dedication that is put in by you and your staff. Having this Dispatch certificate has granted me a ticket to see the world. I am very blessed.
DG, Fedex, Memphis, TN
---
I just wanted to let you know my checkride went great and I successfully got my FAA dispatcher certificate. I just want to thank you for not only your patience and putting up with me in class, but for your positivity and effort to do good by us… I had a great experience with AGS and am so happy I had you as an instructor.
JH, CareFusion, Carlsbad, CA
---
Just wanted you to know that I've completed OJT and passed my comp check this morning. I am now an official dispatcher for JetBlue!
CR, JetBlue, Forest Hills, NY
---
Wanted to let you know that we just extended a job offer to AGS graduate Joseph Mayer from our most recent job posting! Thanks again for all your help; we are excited to having him join us in a few weeks!
MR, Cape Air/Nantucket Airlines, Hyannis, MA
---
I know you like to hear success stories from your school, so I just wanted to let you know that I was hired as an International dispatcher for Fedex… Just wanted to tell you guys thank you once again.
JR, Fedex, Memphis, TN
---
Allow me to once again express my sincere and heartfelt appreciation for the quality training experience I received at AGS. I was so impressed with the level of personal attention… As a prior instructor for Comair teaching gate, ramp, and ticketing classes, I feel that I have a unique perspective of how the class was taught and I give it a solid "A".
CT, Cincinnati, OH
---
Again I just wanted to thank you for everything you have done for me, and express how impressed I was with you, your staff, and your school. You are definitely running a Top Notch school with VERY well educated instructors who make learning both fun and easy. I enjoyed every minute I was there.
Our instructors are employed by the airlines as flight dispatchers and pilots making our program unique. We present the program on a real-world basis and include resume review and practice interviews with your course.
Graduates will have access to our job page where we place a comprehensive list of aviation companies that are currently hiring with an average of 80 listings per month. Demand is high and airlines know our students are the best, which is why we frequently receive calls from employers requesting our graduates.
The airlines are hiring. Current students and graduates can log-in here to browse current job postings. We have made a few updates to our site and would ask that you sign up here below to gain access to the jobs page information.
Register for Jobs Page
Jobs Log-in